The "Vaganova-Prix"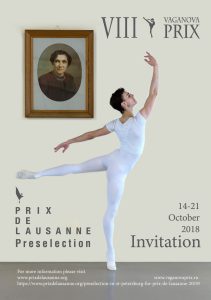 Next October, the Prix de Lausanne will make a preselection in Russia at the occasion of the "Vaganova-Prix" Ballet Competition, in Saint Petersburg!
The Russian competition will take place from October 14th to October 21st, 2018. For more details about the registration and the procedure, please visit this page.
Kathryn Bradney (Prix de Lausanne's Artistic & Executive Director) will be part of the jury at the "Vaganova-Prix" Ballet Competition and will potentially choose two candidates from the Russian competition to invite them to register and participate in the next Prix de Lausanne, all expenses paid.
The 47th edition of the Prix de Lausanne will take place from February 3rd to 10th, 2019 at the Théâtre de Beaulieu, in Lausanne. The Finals will take place on Saturday February 9th, 2019.
The Prix de Lausanne organization is looking forward to this collaboration!