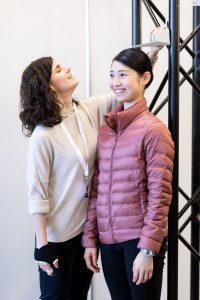 The Prix de Lausanne distinguishes itself from other competitions thanks to a holistic and ethical approach. Since 2000, a health check has been introduced in the registration procedure, in collaboration with a specialised consultant physician. The Prix de Lausanne firmly advocates the principle that in order to be a good dancer, one must be in good physical and mental health. Although the aesthetic canons of classical ballet demand that both male and female dancers be slender, it is vital that the importance given to this criterion should not jeopardise their state of health and have a detrimental influence on their future career.
The Prix de Lausanne Health Policy: Why? And how?
Reaching peak performance in classical ballet calls for exceptional physical, mental, technical and artistic skills. At the same time, and despite the high levels of physical exertion involved, ballet's aesthetic criteria encourage dancers to be lean. To achieve what they believe to be the required degree of leanness, dancers very often control their weight by rigorously limiting their energy intake. This kind of chronic restriction of calories, to maintain excessive thinness, is extremely harmful to a dancer's health in both the short and long term. There is considerable evidence that excessive thinness and malnutrition affects physical growth, pubertal development, morbidity, mortality, cognitive development, reproduction, physical performance and bone health as well as increasing the risk of several adult-onset chronic diseases. Compromising health in pursuit of thinness will not only reduce the dancer's ability to sustain the rigours of a professional career, it can also have severe and extreme consequences. Some of the risks include: Cardiac arrhythmia and risk of heart attack, kidney failure reduced bone health and risk of stress fractures and osteoporosis, reduced or impaired fertility, suppressed immune system, leading to risk of infection, hair thinning and loss, skin problems.
Dr Carlo Bagutti
Directeur médical du Centre de Médecine du Sport, Groupe Vidy-Med