Meet with the jury members 2020!
On Wednesday, February 5th, the Prix de Lausanne organises two special events. The entrance is free, please come and enjoy!
MEET WITH… THE 9 JURY MEMBERS 2020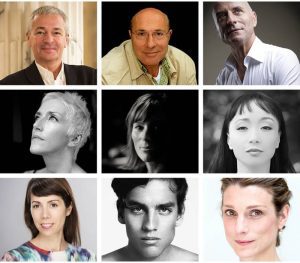 5.30pm – 6.30pm
2m2c, Studio 1

Attend an informal exceptional discussion with the 9 jury members: Frédéric Olivieri (President), Yorgos Loukos (Vice-President), Philippe Cohen, Bernice Coppieters, Nadia Deferm, Zhongjing Fang, Jaimie Persson, Sebastián Vinet and Zenaida Yanowsky. This meeting will be animated by Jean-Pierre Pastori (dance journalist and writer).
Followed by:
A GENERAL REHEARSAL OF THE PARTNER SCHOOL CHOREOGRAPHIC PROJECT 2020
6.45pm – 7.15pm
2m2c, Studio 2 
The 26 participants of the Partner School Choreographic Project will present a piece choreographied by Mauro Bigonzetti. All week long, they learn and rehearse the piece with the Italian choreographer in order to present it as a world premiere during the Interlude of the Finals, on February 8th.
Free entrance!