Photo exhibition
INCANDESCENT HEARTS
Grand-Pont, Lausanne – From April 12th to 26th, 2021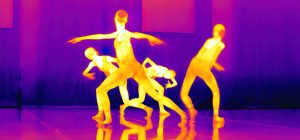 Photographer, Nicolas Brodard, unintentionally chose thermal imaging to honour the carte blanche to document the 48th edition of the Prix de Lausanne, without anticipating the pandemic wave that followed. The thermograms presented here were captured between February 2nd and 8th, 2020, shortly before our society's activities were shut down.
The approach bypasses the iconographic field inherited from Greco-Roman sculpture, generally deployed in representations of classical dance. By using a process that abstracts from muscular modelling and lighting, the photographer wished to reveal the central energetic role that undoubtedly links movement to life.
The editing was oriented to evoke the questions and relations of tension amplified by the pandemic crisis. Curated within an era that tends to put identity claims back on the agenda, his proposal triggers, among other things, the relativity of freedoms, the relationship between groups and individuals, the inalienability of freedom of expression, the desire for recognition, as well as the notion of scientism.
Nicolas Brodard is a professional freelance photographer based in Fribourg, Switzerland. He works for the press as a photojournalist, and puts his skills at the service of many cultural and institutional clients. As an author, he is involved in the self-production of reports and personal projects between Switzerland, Greece, Turkey, the Caucasus, and the Middle East.
Find out the exhibition boards as well as more content thanks to a dedicated e-book – free to download – here: www.incandescenthearts.com