Aki Saito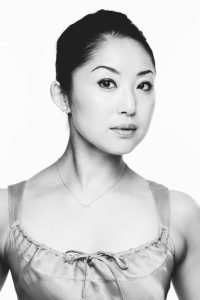 Principal Dancer of The Royal Ballet of Flanders
Prix de Lausanne Prize Winner 1991
Prix de Lausanne 2003, 2005, 2007 and 2017 jury member
About her participation as jury member in 2017
What does the Prix de Lausanne represent to you ?
For me "Prix de Lausanne" is where you can get an inspiration.
Why did you accept to be a member of the jury this year ?
The Prix gave me a huge inspiration. This is where I realised I wanted to be an artist, not only a good dancer. I would like to help the young artists and pass on what I know and what I have learnt in my life.
What do you expect from the Prix de Lausanne 2017 / What are you looking forward to?
I am looking forward for to seeing the passion of young artists. I know everyone worked very hard to be at the Prix. Dancers shouldn't be afraid to show what they have inside. I hope everyone will enjoy and express themselves on stage.
Biography and Interview
Birthplace: Morioka, Japan
Training: Tomoko Kurosawa Ballet Studio In Japan, Royal Ballet School Of Antwerp In Belgium
Prix de Lausanne: Scholarship in 1991
Current company/position: Royal Ballet Of Flanders, Belgium / Principal
Favorite roles/choreographies: I love dancing Giselle, Juliette, and Tatiana from Onegin,
Artifact and In The Middle Somewhat Elevated by William Forsythe and Theme and Variations by George Balanchine.
Career highlight: I am really lucky because I met my best friend and dance partner Wim Vanlessen (Prix de Lausanne cash prize winner in 1993) in The Royal Ballet School in Antwerp where we started learning pas de deux and we are still dancing together today! After all these year we know each other so well that we can push to a really high level together. I love dancing pas de deux so I'm really happy I met such a great partner.
Message to the Prix de Lausanne candidates: Prix de Lausanne will open new doors in your life that will lead to many great experiences and opportunities. Keep an open mind, enjoy every moment and learn and experience as much as you can. Every experience in life is a gift and I wish you all the best and love to everyone.
Message to the Prix de Lausanne organisation: Thinking back to the first time I came to Europe to compete in the Prix de Lausanne always reminds me of how much I love and enjoy dancing. I remember that it was such a new experience for me at the time that I forgot to be nervous! Thank you so much for all the opportunities you gave me, I wouldn't be where I am now without the Prix de Lausanne.