Jan Broeckx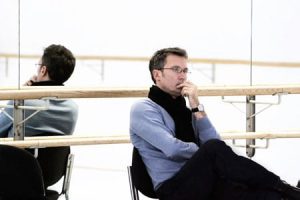 Each month we highlight a Prix de Lausanne-related international dance artist.
"Erfolg hat nur, wer etwas tut, während er auf den Erfolg wartet" – "Success has only one who does something while he waits for the success"
Name: Jan Broeckx
Birthplace: Antwerp, Belgium
Training: Stedelijke Instituut voor Ballet Antwerpen
Prix de Lausanne: 1979
Previous companies/positions:
Soloist Ballet of Flanders
First Soloist Deutsche Oper Berlin
First Soloist Bayerisches Staatsballett
Danseur Etoile Ballet National de Marseille Roland Petit
Guestdancer on many Galas and with many International renowned companies
During my last years as a dancer I have been teaching boys class, repertoire and pas de deux class at the Ecole Nationale Supérieure de Danse de Marseille Roland Petit.
Later been working as an Assistant of Roland Petit, responsible for putting up his ballets all over the world in most renowned companies such as Paris Opera, Kirov Ballet, Bolchoi Theater, Scala di Milano, Asami Maki Ballet Company, National Ballet of Peking, Teatro Colon Buenos Aires and others  
Current company/position: Artistic Director, Ballett-Akademie of the University of Music and performing Arts Munich (Previous Heinz-Bosl Foundation)
Favorite roles/choreographies: La Sylphide (Bournonville) Romeo & Julia (Cranko) Carmen l'Arlesienne Coppelia and many other ballets and pas de deux from the repertoire of Roland Petit.
Career highlight: Galas (Proust pas de deux) together with my twin brother Wim Broeckx, Performing with Lucia Lacarra, Alessandra Ferri and Altinai Asylmuratova.
Preparing young students from Studio ballet for the Prix with success :
Jean-Luc Burke – 1995 – Scholarship
Fabien Voranger – 1997 – Prix de Lausanne "Hope"
Laetitia Guggi – 1999 – Best Swiss Candidate
Ludovic Ondiviela – 2001- Scholarship
Luisa Rachedi –  2001 – Prix de Lausanne "Hope"
Message to the Prix de Lausanne candidates: Preparing for the Prix de Lausanne makes you improve a lot. Even if you don't win the Prix, you will win! The Prix is a unique experience where you get the chance to meet and measure yourself with other candidates from all over the world, who will be for sure your future colleagues and friends. For the later career: Enjoy the moments on stage and perform; Make the audience cry and laugh, bring them emotions. Don't forget the artistic side of Ballet, the technique is important but not all.
Message to the Prix de Lausanne organisation:
Every year there's a quality of organisation. The candidates feel it and it makes it easier for them to compete and feel in a way "at home". The chance they get to share experiences, get in touch and be coached by International Teachers is unique.
This way they get an opportunity to experience the International Ballet World and are able, thanks to the Prix, to make important contacts for their future career.
Link:
http://website.musikhochschule-muenchen.de/de/index.php?option=com_content&task=view&id=65&Itemid=754