Raimondo Rebeck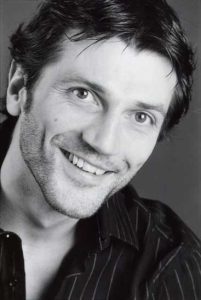 Each month we highlight a Prix de Lausanne-related international dance artist.
Die meisten wollen etwas sein, aber die wenigsten wollen etwas werden!
Name: Raimondo Rebeck
Birthplace:Berlin, Germany
Training:Staatliche Ballettschule Berlin 1979 – 1987
Prix de Lausanne: 1986 – Finalist,  1987 – 1st cash prize laureate
Previous companies/positions: First soloist – Deutsche Staatsoper Berlin 1987-1995, First soloist Deutsche Oper Berlin 1996-2004, First soloist + First ballet master – Aalto Ballett Theater Essen 2005-2008
Current company/position: Freelance international ballet master, teacher, coach and choreographer
Favorite roles/choreographies: "romeo and juliet" – J.C. Maillot, "onegin" – J. Cranko, " wonderful mandarin" – M. Béjart
Career highlight:
The luck to work and to create with idols like M. Béjart, R. Nurejev, J. Kylian and W. Forsythe.
And now the luck to give the magic and spirit of this unique profession further to the next generation.
Message to the Prix de Lausanne candidates: If you are a Prix de Lausanne candidate, then you are already a winner.  Don´t compete with the others, compete with yourself every day. Enjoy every moment in your dance life and treat yourself, your career and this art like something very special!
Message to the Prix de Lausanne organisation: Prix de Lausanne was and is the gate for the young generation, where doors are getting open, careers have started, talents got discovered and supported. All this is Lausanne! Thanks to Mr. Braunschweig and to the organization today and all the very best!!! You are wonderful!