Heinz Spoerli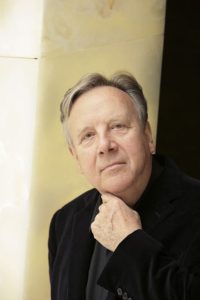 Nearly in the beginning of Prix de Lausanne I have been asked to be in the Jury. And from the beginning on I could see what great opportunity it is to meet dancers of different nations with the same interest: LOVE OF DANCE, and have the chance to work with some of greatest Teachers and Jurys from all over the world. 
Choreographer
Sponsor for the first edition of the Young Creation Award, Prix de Lausanne 2021
Two of his variations are part of the repertory, Prix de Lausanne 2019, 2020 & 2021
"You have to bury the depth. Where? On the surface." That is what Hugo von Hofmannsthal wrote in his Buch der Freunde, or book of friends.
Applying his characteristic perfection, the choreographer Heinz Spoerli has often stuck to that golden rule. The outer layer of Spoerli's ballets is formed of flawless, flowing movement, harmonious lines, shapely form, carefully calculated optical elements in aesthetically balanced unity with the scenery and lighting. The basis for Spoerli's works is the classic danse d'école, which he employs in manifold ways. In fact, in close alliance with the music, Spoerli's dance creations embody the very stuff of human relationships: longing and pain, loneliness and joie de vivre, and sometimes comic adventures too. That is because Heinz Spoerli possesses a marked sense of the comical and he is a perceptive observer of human behaviour. As with Hofmannsthal's artistic motto, that conjures up a human image which embodies the fluid nature of human existence: "We are surrounded by nothing but the ephemeral, the many-named non-being, and beyond that lies the unfathomable abyss of existence." Spoerli portrays that abyss in his ballets in floating, moving forms, lending them an aesthetically charming exterior in which the choreographer conceals the depth of feelings in an almost discreet and circumspect manner.
—
Heinz Spoerli was born in Basel in 1940 and fell in love with the theatre and dance as a youngster. Spoerli initially trained as a dancer with Walter Kleiber in Basel, and later in London and New York. Wazlaw Orlikowsky at the Stadttheater in Basel gave him his first engagement. From 1963 to 1973 Spoerli also had engagements as a soloist in Cologne under Todd Bolender, at the Royal Winnipeg Ballet under Arnold Spohr at the Grands Ballets Canadiens in Montreal, and at the theatres in Basel and Geneva.
From 1967, while he was still actively dancing, Spoerli choreographed his first ballets. In 1967 his first pieces, Tanz für Zwei and Temptation, were performed in Calgary, followed a year later in Montreal by Sonata to music by Vivaldi, which was acclaimed in the press. Spoerli's breakthrough as a choreographer came in 1972 at the Grand Théâtre in Geneva with a work to music by Eric Gaudibert entitled Le chemin, which was even recorded by Swiss Television.
As a result, in 1973, the Director of the Basel theatre, Werner Düggelin, appointed Heinz Spoerli Principal Choreographer and Ballet Director. In the subsequent seventeen years, Spoerli created numerous dance works for the Basel Ballet and developed the company into a high-profile, classical ensemble. At the same time, Spoerli gained for himself an excellent international reputation as a choreographer of full-length narrative ballets and of stylish new versions of classical ballets, including La fille mal gardée, Giselle, Coppélia, Romeo and Juliet, Nutcracker, Swan Lake and La Belle Vie. He also created contemporary ballets like Undine, Törless and Orpheus to the music of Hans Werner Henze, plus a whole host of neo-classical works and incisive short dance sequences, Chäs, Miniaturen, Dead End and Loops. Full-length narrative ballet remains Spoerli's main focus, though from time to time he has produced impressive works in the field of abstract ballet.
Since 1980 Spoerli has been a guest choreographer for a number of theatres, including the Paris Opera, the Viennese State Opera, La Scala in Milan, and for theatres in Berlin, Hong Kong, Lisbon, Stockholm, Stuttgart and Graz. Between 1991 and 1996 Spoerli took on the post of Ballet Director at the Deutsche Oper am Rhein in Düsseldorf, where he created new versions of a number of ballets, including Swan Lake, Sleeping Beauty, Josephslegende and one about the painter Pontormo entitled … und Farben, die mitten in die Brust leuchten. It was during this time that he produced some of his most important choreographic works, including his lucid dance version of Bach's Goldberg Variations in 1993, which is still part of the Zurich Ballet's repertoire. Spoerli's Goldberg Variations portray life in an enchantingly timeless, almost geometric manner, how it passes, how couples find one another and then part. In subsequent years, this became the solid basis for airy, often abstract, sometimes sparse, narrative choreographic works.
When, in 1996, the opportunity arose for Heinz Spoerli to take on direction of the Zurich Ballet, he took on the challenge and proceeded to shape the company into one of Europe's leading ballet ensembles. As Director of the Zurich Ballet, Spoerli's reputation has expanded as a significant modern-day choreographer who works independently of changing fashions. In Zurich Spoerli has choreographed to music by many composers including Bach, Mozart, Brahms, Stravinsky, Ravel, Berio and Shnitke. He has created new versions of classic ballets like Cinderella, Coppélia, Don Quixote and Swan Lake. His most significant contemporary works produced during his time in Zurich include the Bach ballets … und mied den Wind and In den Winden im Nichts to Bach's Suites for solo cello, Approaching Clouds, Allem nah, allem fern to Gustav Mahler's Fifth Symphony, moZART, Les débauches du rêve and Peer Gynt.
Even when he is not directing on stage or in the ballet practice room, Heinz Spoerli's activities are still dedicated to the art of dance, as witness his establishment of the Heinz Spoerli Foundation, whose aim is to contribute to furthering the art form of dance and encouraging public interest in dance. The foundation regularly awards prizes to outstanding dancers and choreographers. In addition, he founded the Zurich Junior Ballet as an international springboard for highly-talented young male and female dancers. Spoerli was also Artistic Director of the Swiss Professional Ballet School from 1998 to 2001. Heinz Spoerli has received numerous awards for his work, including the 1982 Hans Reinhart Ring, the Art Prize of the City of Basel in 1991, the 1995 Jacob Burckhardt Prize, and the 2007 Zurich Art Prize. In 2009 he was awarded the German Dance Prize and the German Dance Critics' Prize.
What marks out for Heinz Spoerli is that he is constantly reinventing his creative self. In his earlier works in particular, he reveals an often surprising, experimental side. As a result, you might think: the older Heinz Spoerli grows, the more relaxed and radical he has become in his dance solutions. So we can expect more surprises in store.
In the meantime Heinz Spoerli after – 16 successful years as Director in Zurich – he has left the leadership of the Zurich Ballet and is now a freelance choreographer. He is pursuing his career and has lately been working in Salzburg, Strassbourg, Essen, Karlsruhe , Helsinki and Milano.
Martina Wohlthat, www.spoerli.ch