Emma Sandall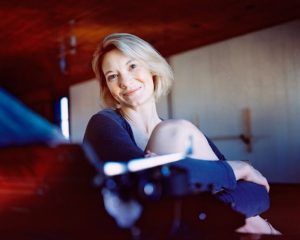 "For me, the Prix represents the dance world at its best –  warm, generous and caring, while consistently of the highest caliber. It tirelessly strives to fund opportunities for talented young dancers from around the world, no matter their financial situation. Once you've been to the Prix, it becomes a family, a network you have for the rest of your life."
"Dance your hearts out! Show the jury and the audience your beautiful and unique artistry. That is what the world wants to see. A shining new artist lighting up the stage."
Prix de Lausanne Prize Winner, 1994
Speakerine, live streaming for the Prix de Lausanne 2020
Emma was born in Sydney, Australia. After training at Academy Ballet in the Royal Academy of Dancing syllabus she won silver medal at the Adeline Genée Awards in London in 1993 and a Prix de Lausanne Prize in 1994. Subsequently, Emma trained at the Royal Ballet School and Australian Ballet School.
In 1997 she joined Béjart Ballet Lausanne where she danced some of Béjart's great female roles. Emma then danced with The Royal Ballet, Scottish Ballet and West Australian Ballet which she left in 2009 to start her own dance company, Ludwig, in Perth Australia. With Ludwig, Emma created many short and full length dance works including for So You Think You Can Dance Australia. Her solo Crossing Satie won third prize at the Rome International Choreography Competition in 2011. Her solo BodySong was a finalist at the Stuttgart International Solo Dans Theater Festival in 2012.
In 2006 Emma was invited to perform in the Interlude at the Prix de Lausanne and in 2012 she was a jurist for the 40th Prix de Lausanne. In 2013 Emma became Dance Australia Magazine's Sydney correspondent and in 2015 she returned to Lausanne to cover the Prix de Lausanne for the magazine. That same year she started an advice column Ask Emma for Dance Australia Magazine.
In 2015 Emma created a dance projection with the Nashville Ballet to accompany Ben Folds' Piano Concerto at the Kennedy Center in Washington DC as part of Ben Folds Declassified Concert Series. Emma moved to the United States in 2016 and continues to write feature articles for both Dance Australia and Dance Magazine in America. Her article "Is It Time to Completely Rethink Ballet Class?" was one of Dance Magazine's Top Ten Articles in 2018.
Emma lives in Hudson NY and works regularly with choreographer Adam Weinhert. She is currently creating the stage dance theatre adaptation of the acclaimed novel MOTHERHOOD to premiere at the Edinburgh Fringe Festival in August 2020.