Marcelo Gomes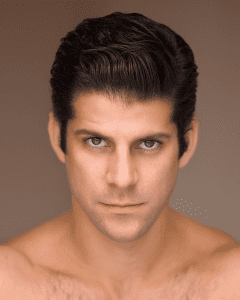 Lauréat du Prix de Lausanne 1996
Étoile de l'American Ballet Theatre
Marcelo Gomes fait partie des grands danseurs classiques et contemporains de sa génération. Originaire du Brésil, il est danseur étoile à l'American Ballet Theatre depuis 2002. Il a dansé comme artiste invité dans de nombreuses compagnies telles que le Bolchoï, le Mariinsky, le Ballet national du Canada, le Royal Ballet, le Dutch National Ballet, le Teatro Colon, le Ballet Mikhaïlovski, l'Universal Ballet, le Teatro Municipal de Rio de Janeiro, et le New York City Ballet. Il a également créé des chorégraphies pour le ballet de La Scala, les compagnie Kings of Dance et Complexions Contemporary Ballet ainsi que l'American Ballet Theatre. Marcelo a reçu de nombreux prix, dont le prix Espoir du Prix de Lausanne en 1996, un Bessie Award et le Prix Benois de la Danse.
What is your best memory of the 1996 Prix de Lausanne?
My best memory of participating at Prix de Lausanne was going through the whole experience alongside my teacher Olivier Pardina, who prepared me and gave me the confidence to keep going in such a positive way. That has stayed with me my entire life. I think having the right support group beside you when you are so young is extremely important. Also, seeing the other male dancers from different schools all over the world really opened my eyes to all the talent out there.
What was your greatest fear during the 1996 Prix de Lausanne?
Of course when you're 16 years old you have so many doubts and fears; that you won't make it through, or you won't do your absolute best. When you are that age it's hard to control your nerves. But I think in the back of my mind I knew I had already come such a long way from where I began as a young boy growing up in Brazil. I felt I had already achieved so much, so I was happy and really appreciative for the opportunity to participate at Prix de Lausanne, whatever the outcome.
Can you tell a funny or embarrassing moment on stage at the beginning of your career?
When I was in the corps de ballet of ABT, I portrayed a reindeer in one of the ballets. I had to pull a sled that was attached to my waist and fall with it on stage pretending to slip in the snow. Let's just say it didn't always work out the way that I intended. Those kind of gaffes really make one appreciate when things actually go right.
Do you have any advice for the 2016 Prix de Lausanne candidates?
My advice is to focus on the work you've been doing with your teacher, coach or school. It's easy to get distracted by the other candidates. Keep in mind that the competition is just another step in your life, and will almost definitely open doors that you didn't even know existed for you. And always, always remember that dance is an art, not a sport.